In various court depositions, Guo Wengui (also known as "Miles Kwok," "Ho Wan Kwok," etc.; Guo Wengui has many aliases), asserted that William Je is an anti-CCP activist. He also provided self-contradictory accounts, under oath, of his relationship with ACA Capital, controlled by William Je.
Making the matter worse, Western media has missed connecting Guo Wengui with William Je, a known United Front Work Department agent. This failure has resulted in the media being unable to identify the extent of the CCP's United Front psychological warfare conducted in the Western World.
Because of the complexity, many media journalists are reluctant to dive into the issue. The few journalists that do start investigating Chinese intelligence operations are overwhelmed by the Chinese practice of dividing their operations among multiple agents and useful idiots, creating a Rubik's Cube of interlocking relationships that are subtly connected.
Guo Wengui is being portrayed as a mere con artist, or renegade, whose anti-CCP public face seems legitimate. While in truth, he is connected not only to China's Ministry of State Security but also to the Chinese United Front Work Department through his association with William Je.
As Hark Herald Press team has been demonstrating through its Twitter threads, it is becoming urgent that the mainstream media cease reporting individuals like Guo through an isolated lens, instead of backing up to 30,000 feet and looking at the entire Chinese psyops. Too many facts in what has been published are left out by media personnel who have no personal experience with how the Chinese government actually works. The advantage Hark Herald has is that its staff includes people who have actually lived in China and escaped to the United States.
The failure to connect seemingly random facts, from that perspective, creates a misleading picture of the extent of the infiltration by Chinese intelligence. This leaves the public in the dark as to the source of the misinformation, and outright propaganda, on social media.
Here are some facts missed by the Western media.
(1) ACA Capital, run by William Je, has transferred millions of dollars to Guo Wengui.
The Chinese Open Source Intelligence (OSINT) community estimates that William Je's ACA Capital paid Guo no less than $9 million in 2017-2018.
We verified the following:
| | | |
| --- | --- | --- |
| Item | Amount ($) | Confirmation |
| Consulting Fee | 7.2 million | Guo's own testimony in his lawsuit against Mr. Hongkuan Li, a Chinese dissident who engaged in vicious cyber-bickering with Guo Wengui. (See, i, infra.) |
| Strategic Vision Down Payment | 1 million | Court transcripts in the SV case (See, ii, infra.) |
| Bill Gertz's book "support" | $100K | See, Eastern Profit v. Strategic Vision LLC. Case 18-cv-02185, S.D.N.Y. 2018. Doc 273-4, p. 5 |
I. Consulting Fee – $7.2 million
In this document signed by Guo himself, it stated that between 2017-Feb 2018, Guo Wengui was paid by ACA $7.2 million in consulting fees. (GUO WENGUI v. HONGKUAN LI, Case 18-00259, Doc 20-4, Page1-2 D. Md.)

II. Down payment sent from William Je to engage Strategic Vision – $1 million
To engage Strategic Vision, ACA Capital deposited $1 million as a down payment. This is verified in the court deposition of multiple witnesses including Michael Waller, President of Strategic Vision (Eastern Profit v. Strategic Vision LLC Case 18-02185, Doc 273-47, p 10-11, NYSD):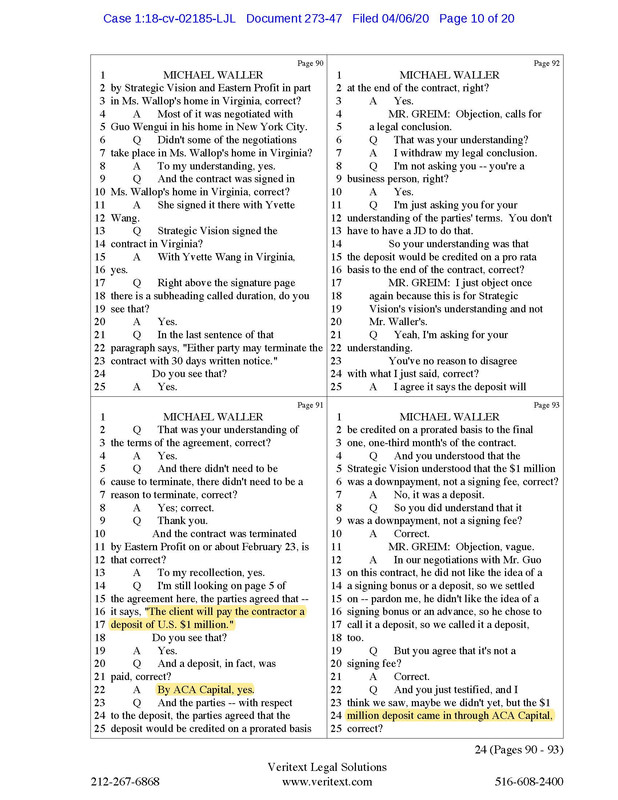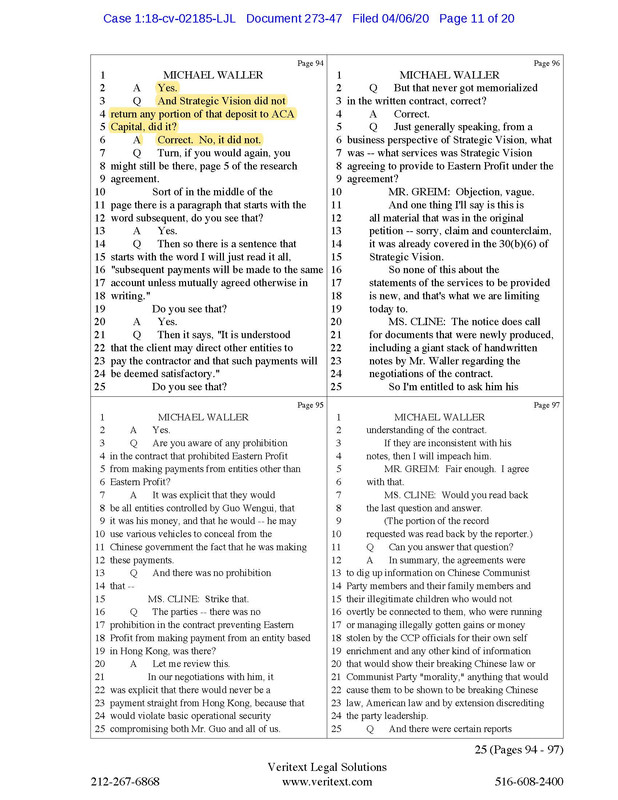 III. William Je Paid Bill Gertz $100,000
On Oct 15, 2019, in his court deposition, Mr. Gertz appeared as a witness under the oath (Eastern Profit v. Strategic Vision LLC Case 18-02185, Doc 273-19, p 9-14, NYSD)::
Q. And we'll get to that in a minute. What is the Rule of Law Foundation?
Gertz. In October of 2018, Guo Wengui 6 announced publicly, at a press conference in New York, that he was starting a rule of law organization to bring about democratic reform in China. And subsequently, the Rule of Law Society was created.
…
Q: And who is William Je? Let's back up a little bit. I will ask you that.
Gertz. He is a financier from Hong Kong, and I know — I think he lives in New York. I think he has his own company. And like I said, I got to know him through meetings, and he discussed various things about the Chinese communist party that he was opposed to. And it was my impression that he was a supporter of Mr. Guo because he supported the idea of bringing about democratic change in China.
…
Q. What do you think his interest was in providing you with the $100,000?
Gertz: I believe he wanted to support my efforts to bring about exposing the kinds of activities that are being carried out by the Chinese Government, the Chinese party.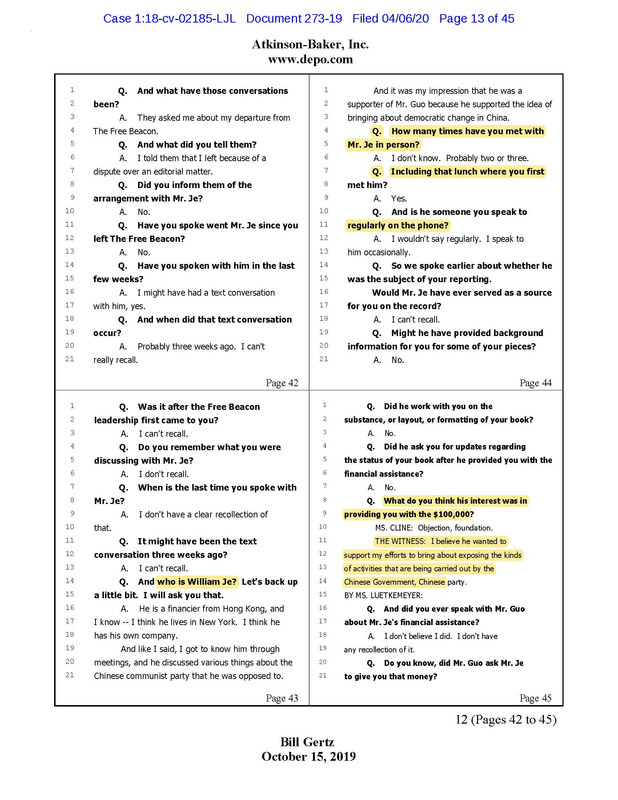 When asked about how William Je was introduced to Gertz and subsequent payments from ACA Capital to Gertz, Guo invoking 5th on questions around Gertz.(Case 18-02185, Doc 368, Page 24-25, NYSD)
Q. Mr. Guo, you introduced Mr. Gertz to William Je, didn't you?
Guo: No. I'm invoking the Fifth Amendment.
Q. Mr. Guo, are you aware that William Je then advanced $100,000 to Mr. Gertz?
Guo. I'm invoking the Fifth Amendment.

IV. Beyond the $8.3 million mentioned above, ACA Capital is believed to be covering Guo's legal expenses in multiple lawsuits in various state courts.
Hark Herald Press did not call these courts to verify. Those payments were mentioned repeatedly in legal documents submitted by Strategic Vision and other parties Guo sued, in addition to the Chinese Open Source Intelligence (OSINT) community investigations.
Compared to the other amounts transferred, these state court costs constitute a small percentage of the support Guo Wengui has received from William Je.

V. $37 million loan to Guo Wengui's Daughter, Guo, Mei from William Je

Background: Guo Wengui's (also known as "Miles Kwok), lawsuit with PAX
Guo's company borrowed $46 million from Pacific Opportunity Fund (PAX) in 2007. (See, In Re: Genever Holding LLC, Case 2020-bk-12411, Doc 13, page 8.)
This dispute goes back nearly a decade. In March 2011, Kwok and PAX entered into a contract in Asia (the "2011 Personal Guarantee") under which Kwok personally guaranteed a loan facility—approximately $46 million at the time—that PAX had issued to one of Kwok's companies.
Instead of paying off the debt, Guo (as Kwok), began hiding his assets by creating potentially hundreds of shell entities, including China Golden Spring, Eastern Profitt, and HK USA.
On April 18, 2017, PAX filed a lawsuit against Guo. On February 3, 2021, the New York state court ordered Guo to pay PAX $116,402,019.57.
(See, In re: Ho Wan Kwok, et al., (AKA "Kwok"), Chapter 11 Case No, 22-50032 (JAM)(U.S.Bk.Ct.Conn. 2022), Doc 1 p. 4.):
PAX sued Kwok for breach of the personal guarantee contract on April 18, 2017 in New York State Supreme Court. Following nearly four years of litigation, on February 3, 2021, PAX secured a judgment against Kwok for $116,402,019.57. PAX then "undertook a year's-long effort to enforce [the] judgment by first identifying and then attempting to levy upon Kwok's assets in the United States." This was no small task because, as Justice Ostrager found, "Kwok, who is a self-declared multi-billionaire, had secreted his assets in a maze of corporate entities and with family members." Kwok has yet to repay any of the $116,402,019.57 judgment, which accrued post-judgment interest at the rate of 9 percent per year.
On October 15, 2020, the court entered a restraining order that Guo should not dispose of his $67 million apartment in New York and Lady May, Guo's luxury yacht on which Steve Bannon was arrested. In re: Ho Wan Kwok, et al., supra., at p.4:
On September 30, 2020, Justice Ostrager issued a temporary restraining order preventing Kwok "from making or causing any sale, assignment, transfer or interference with any property in which he has an interest…." Two weeks later, on October 15, 2020, Justice Ostrager specified that this restraint on Kwok included the Lady May.
Defying the order, in April 2020, Lady May was transferred to HK USA, another shell entity held by Guo, and sailed to the Bahamas and then to Europe. In re: Ho Wan Kwok, et al., supra., at p.4-5:
But unbeknownst to Justice Ostrager and PAX, the Lady May had already left New York for Florida on or about October 9. The yacht then went to the Bahamas, and finally to Europe.
 On March 17, 2021, the court issued a contempt order with a daily fine of $500,000 to Guo. See, In re: Ho Wan Kwok, et al., supra., at p.5:
Justice Ostrager held that evidentiary hearing on February 2, 2022. After hearing testimony from seven witnesses, Justice Ostrager concluded that "[t]he testimony adduced at the hearing out of the mouths of [Kwok]'s witnesses clearly and convincingly demonstrated that Kwok beneficially owns and controls the Lady May and has utter contempt for this Court and the judicial process." The court further found that "[n]ot only does Kwok control the yacht, it appears he provided the funds to purchase it and he is the person who principally enjoys the use of the yacht." As a result, Justice Ostrager entered the February 9 order of contempt (the "Contempt Order"), which imposed a $134 million fine, based on the "268 days," "[a]s of February 7, 2022," that "the Lady May ha[d] remained outside the jurisdiction of the Court."
To bail out Guo, Guo's daughter Guo Mei posted a bond of $37 million, commensurate with the estimated value of Lady May.
The agreement required that an entity called HK International Funds Investments (USA) Limited ("HK USA")—the purported technical owner of the Lady May—deposit $37 million with an escrow agent to secure HK USA's return of the yacht to this jurisdiction and to establish a reserve for all repairs necessary to restore the yacht to good working order. See, In re: Ho Wan Kwok, et al., supra., at p.6
The $37 million came from a loan from Himalayan Financial run by William Je. Yet in bankruptcy court, Guo maintained that he had less than $3900 in disposable assets.
Interestingly, according to Guo's daughter, Guo Mei, HK USA did not even have a bank account. See, In re: Ho Wan Kwok, Chapter 11, Case 22-50073 Doc 1529, U.S.D.C. Conn.BK page 140, Video Taped Deposition of Mei Guo Jan 20, 2023.
According to Guo Mei's testimony, she is still the CEO of the Pangu Group in Beijing, which manages the Pangu Building. (Known by the Chinese Community to be a stronghold for the Ministry of State Security of China.) See, In re: Ho Wan Kwok, Chapter 11, Case 22-50073 Doc 1529, D. Conn.BK Page 17-23, Video Taped Deposition of Mei Guo Jan 20, 2023.
VI. letter of credit from William Je to Guo Wengui
Further, when Guo was shopping for his residence in 2017, ACA Capital Provided a letter of credit for Guo Wengui. This is not included in the $ 9 million the Chinese OSINT community estimated. See, EASTERN PROFIT CORPORATION, v STRATEGIC VISION US, LLC, Case No. 18-cv-2185, S.D.N.Y. (2018), Doc. 273-4 p.6 p.29.
(2) William Je Is The Money Man
On April 22, 2021, Sasha Gong appeared as the witness to the lawsuit Eastern Profit v. Strategic Vision LLC. Case 18-cv-02185, S.D.N.Y. 2018.
In the court deposition, Sasha Gong disclosed that Guo introduced William Je to her during the lunch as "My money man" See, supra., Doc 368, p. 127-128.
Q. Was he formally introduced to you?
Gong: Yes. Mr. Guo introduced him to me that — jokingly, that "He's my money man. Anything asks him about money."

(3) William Je is connected with Guo Wengui
Guo and Je have shared the addresses at least twice in their relationship.
The close relationship between Guo and William Je can be demonstrated in 2 key addresses they share. In Hong Kong corporations can have multiple addresses. The first address is the address where it was originally incorporated. Any move generates secondary addresses of the corporation.
One address in Hong Kong is 49F, Bank of China Tower, HK.
This is the incorporation address of Eastern Profit, founded under Mr. Chunguang Han, who is Guo Wengui's bodyguard, chauffeur, and cook. It is a shell company controlled by Guo.
See, Eastern Profit v. Strategic Vision LLC. Case 18-cv-02185, S.D.N.Y. 2018. Doc 273-18, p. 8
Q Did Mr. Guo have anyone with him?
Gong: Mr. Guo introduced me to his assistant, Mr. — Ms. Yvette Wang. And that — that's – whatever you need, talk to my assistant.
And, also, Mr. Guo introduced us to his cook, Mr. Han — Mr. Han. (Inaudible) Han, Little Han. He called him "Little Han." And later I learned his name is Han Truong Guang (phonetic). And Mr. Guo — because Fred — my — Fred, who had some stomach prob- — he's a stomach cancer survivor, so he need the little bit noodle soup in the middle, so Mr. Guo called Chef Han to cook, so Han cooked for Mr. Wang for — a little bowl of noodle show — soup.
See, Eastern Profit v. Strategic Vision LLC. Case 18-cv-02185, S.D.N.Y. 2018. Doc 273-18, p. 22.
Q: All right. And could — could you draw any conclusions about Mr. Han's level of education by hearing his speaking of Mandarin?
Gong: I think — well — well, I –as a standard Mandarin speaker, reporter, and a teacher, I guess his education sounds like he — he does not have the high school certificate kind.
Q: (By Mr. Greim) I'm sorry, what — what –what do you mean by that?
Gong: Not very well educated.
Q: Would you be surprised to hear that he ran an investment or a media company?
Gong: No. No way.
MS. CLINE: Objection to form.
Gong: So — so — all right. I have no knowledge and — but I'd be surprised.
Q: (By Mr. Greim) Okay.
Gong: So why would someone who ran an investment firm to — to serve as a cook?
Q: All right. Let's —
Gong: That's my journalistic question.
Q: Okay. Well, remember, we are asking you the questions here, Ms. Gong.
Gong: All right.
China Golden Spring moved into this address on 10/25/2016.

This is also the registered secondary address of ACA Capital Hong Kong Investment. In annual reports filed by ACA, which is controlled by ACA, its address in 2016-2018 was 49F, Bank of China Tower.

ACA Capital Hong Kong Investment was first incorporated under Guo's son, Guo Qiang, then under William Je
On April 23, 2014, ACA was incorporated under Guo Qiang: :
On Dec 30, 2014, William Je submitted the NNC1 form again to register ACA Capital under his name.
49F Bank of China Tower, Hong Kong.
ACA Capital Filing
2018
2016:
Eastern Profit
Incorporation:
China Golden Spring
10/25/2016, move:
2016 Annual Report:
2018 Annual Report
4F/5F Central Tower, Hong Kong

ACA Capital
2015 Annual Report:
2016 Annual Report

China Golden Spring
Incorporation address
800 Fifth Avenue, Unit 21F, New York is the same address for both Hamilton Capital registered by William Je and Saraca Media registered and controlled by Guo Wengui.
Fiona Ka Wing Yu, from Hong Kong, is not only the corporate secretary for William Je's ACA Capital but also signed the Biennial Corporate Statement for Genever Holdings.
Genever Holdings is incorporated at 80 State Street, NY 12207-2543. It is a shell company used to shield Guo Wengui's $67 million luxury apartment in New York. See, In re: Genever Holdings LLC, Case 2020-bk-12411, (S.D.N.Y Bankruptcy 2020), Doc. 13 p 4-5.
ACA Capital:
Genever
C

Common Addresses of William Je and Guo Wengui Businesses
Address

ACA Capital (William Je)

Eastern Profit (Guo)

China Golden Spring (Guo)

49F, Bank of China Tower, Hong Kong


2016 – 2018 Annual Report Address

Incorporation office

2014 – 2016 Annual Filing

2016/10/25 moved into 49F Bank of China Tower

2018 Annual Filing Address

4F/5F Central Tower, Hong Kong


Filing Address 2015-2016

Incorporation address
(4). William Je is closely involved in major decisions by Guo.
Yvette Wang, Guo, and Lianchao Han all testified to what happened with the contract with Strategic Vision.
The testimonies often contradict each other. In particular, Guo's testimony does not comport with what was provided by Strategic Vision and other witnesses.
Nonetheless, it is obvious that William Je holds lots of power over Guo's operations.
William Je decided whether the information dug out by Strategic Vision met expectations. He was not happy with the results: See, Eastern Profit v. Strategic Vision LLC. Case 18-cv-02185, S.D.N.Y. 2018. Doc 273-11, p. 6
Q: What did he say?
Wang: About what?
Q: About the million dollar loan.
Wang: I don't remember precisely what he said. Kind of he asked, I heard you are cheated, and then I briefly told her.
Q Told him?
Wang: A Yeah, told him. Yeah. We were cheated by two liars.
Q: So did he demand repayment of the million dollars from Eastern Profit?
Wang: You mean in our dinner?
Q :Yes.
Wang: He mentioned that. Kind of a — he said we are expecting the result, but you are cheated. And the loan agreement, the loan kind of like need to be pay back.
Q: What result did he say he was expecting?
MS. CLINE: Objection to form.
Wang: Generally they corrupted Chinese official information.
Q: So William Je said he expected that information?
MS. CLINE: Objection to form.
Wang: Correct.
(5). William Je
This is what Hark Herald Press already disclosed: (See, MAGA Leaders Financed By Chinese Intelligence Agency To Conduct Psychological Warfare Against United States)
 William Je was born and raised in Hong Kong but was appointed a CPPCC member in Chongqing, a city 689 miles north of his hometown, a municipality extremely important in China's power structure. Such a position, and the fact he also served as a senior officer in an important United Front organization in Hong Kong, evidence his importance to the United Front. Hong Kong and Chongqing are separated by nearly 700 miles, and Je allegedly has no specific business holdings in Chongqing. To hold such distinguished positions, in two separate cities that far apart, may indicate Je is a senior United Front Agent, according to our sources.
On his LinkedIn page, William Je lists "Member of the Chinese People's Political Consultative Conference ("CPPCC") of Chongqing" in the Honors and Awards section. According to a Chinese government website, he served two terms 2008-2018. CPPCC members are brought into the position by United Front after meticulous vetting. According to the CPPCC bylaws, members who fail to demonstrate continued allegiance to CCP will be expelled.
Je was also the executive chairman of the Hong Kong Youth Association, a United Front organization in Hong Kong.
In addition, William Je is listed as a Founding Vice President of Hong Kong Chongqing Friendship Federation.
William Je was prominently featured on its front page:

As of March 13, 2023, William Je is still listed prominently on the site of Hong Kong Chongqing Friendship Federation as a member of its leadership team.
According to the Hong Kong Chongqing Friendship Federation website:
This association was established in 2008 and is one of the influential patriotic groups in Hong Kong. Since its inception, the Association has been adhering to the tenet of "Serving the Country, Serving Hong Kong, Serving Chongqing, and Serving Committee Members." It has united the people of Chongqing Municipality in Hong Kong, the members of the Chongqing Municipal Committee of the CPPCC.
From 2014 to 2019, Patriotic Groups in Hong Kong, all United Front affiliated, played a key role in assisting CCP to put down the local demonstrations.
See the report by New York Times: From the Shadows, China's Communist Party Mobilizes Against Hong Kong Protests
The report provided a glimpse of how these "patriotic groups" functioned in tandem with the United Front:
Patrick Ko, the founder of a patriotic outfit that held a pro-police rally recently, said the liaison office ordered him to drop out of an election for Hong Kong's legislature in 2016 because he was competing against candidates Beijing favored.
"Of course, I was not happy," he said at his group's small, cluttered office in an old warehouse building.
He denied getting support from the liaison office for his group, called Voice of Loving Hong Kong or having any ties to the party. But Mr. Ko, 66, acknowledged that he had long been a member of a Shenzhen organization affiliated with the party's United Front Department in Beijing.
(6). There is much more to Investigate
The connection between Guo and Je is not the only thing the media missed. Below are questions that can be asked about the partnership between Guo and Je. Strategic Vision refused to return the $1 million so Guo sued.

Q Did Eastern have an understanding how it was going to pay back the loan?
Wang: By this lawsuit. That's why Eastern sued, to get this 1 million back, because Eastern's bank account was frozen.
6.1 Why did William Je advise Guo not to sue Strategic Vision?
When Guo was contemplating filing suit against Strategic Vision, he consulted with Lianchao Han and William Je in his luxurious NY Apartment.

Interestingly, William Je, who provided Guo $1 million in the form of a loan, and allegedly wanted the money back, did not want Guo to proceed with the lawsuit. See, Eastern Profit v. Strategic Vision LLC. Case 18-cv-02185, S.D.N.Y. 2018. Doc 273-4, p. 5:
Q. What did you discuss with him about the case? Let's start with the earliest meeting that you can remember.
Han. I think at the beginning, I strongly advised when he mentioned he's going to sue French and Mike, I opposed the idea. I also got his colleagues that agree with me, we try to persuade him not to pursue it, and that was the earliest discussion. Of course, he won't listen to me and I tried a few more times this, and then I don't think he was — you know, there's no way he agreed with me. So that was that. Then, later, I think we discussed. He didn't  discuss specifically about the case at all. He kept saying French and Mike are frauds, cheated him, which we always have a different view on that. I disagree with him on that. So we argued back and forth. So that pretty much was our main conversation about the case, whether they're cheating him or not.
Q. Why do you disagree?
Han: Because I think everybody comes in with a good intention at the beginning.
Q. Who are the colleagues of Mr. Guo's that agreed with your position early on?
MR. GAVENMAN: Objection to form.
Go ahead.
Han: At the meeting was his — Victor Cedar and William Yu. Williams, he's a manager, I think.
BY MR. GREIM:
3 Q. Is this William Je, J-E?
Han. J-E? I think Yu. Right? No. I don't remember his last name, but he was — he was — I remember he was at the meeting. He also agreed with me not to pursue this case, because we — yeah. I predict what's going to happen exactly like what's happening right now.
6.1 Who is Lianchao Han? What is his role?

Lianchao Han, another partner in the Strategic Vision project, also opposed the lawsuit fearing a counterclaim by Strategic Vision might compromise Guo's political asylum application. Lianchao Han advised Guo not to sue Strategic Vision.
He is one of the two people Guo trusted to handle the negotiation with Strategic Vision. See, Eastern Profit v. Strategic Vision LLC. Case 18-cv-02185, S.D.N.Y. 2018. Doc 273, p. 52
These three were Guo, and two other individuals to whom Guo alternatively gave authority: Wang and another individual identified more fully below, Lianchao Han. At all times, Wang and Lianchao Han claimed to be acting under the authority and with the permission of Guo."
According to Guo, Han provided personal Guarantee that Strategic Vision can handle the investigation for Guo. See, Eastern Profit v. Strategic Vision LLC. Case 18-cv-02185, S.D.N.Y. 2018. Doc 273-3, p. 10

Guo. So, yes, they prodded me to sign agreement as soon as possible so that they can give me the information about the goddaughter of Wang Qishan, her deposit in China CITIC, billions and billions of dollars. And, also, my liaison –Han Lianchao, even made a personal loan guarantee in order to sign the contract.
According to Guo, Han drafted the contract with Strategic Vision. See, Eastern Profit v. Strategic Vision LLC. Case 18-cv-02185, S.D.N.Y. 2018. Doc 273-11, p. 6

Q. So is it your testimony, then, that Lianchao Han's first involvement with this contract was his attendance at a meeting between you and French Wallop and Mike Waller?
MR. GRENDI: Object to the form.
Guo. I cannot be a hundred percent certain, but I think so. But what I can be certain about is, Mr. Han drafted the contract, the agreement.
6.2 Who is in charge?
Although Guo insisted that he did not know much about the contract, Lianchao Han confirmed that no matter who signed the contract, the project ultimately reported to Guo See, Eastern Profit v. Strategic Vision LLC. Case 18-cv-02185, S.D.N.Y. 2018. Doc 273-4, p. 41:
Q. Did you always understand that regardless of who signed the contract that that person or entity would be reporting to Mr. Guo?
MR. GRENDI: Objection.
MR. GAVENMAN: Objection to form. 8
Han: Yes.
6.3 Why did Guo lie about his control over Eastern Profit
Guo answered that he did not know who was in charge of Eastern Profit, which was clearly a lie. See, Eastern Profit v. Strategic Vision LLC. Case 18-cv-02185, S.D.N.Y. 2018. Doc 273-3, p. 27:
Q. Do you know the identity of any officer or director of Eastern Profit?
Guo I don't know.
6.4 Why is Guo so paranoid about questions regarding Yvette Wang?
Guo refused to answer whether or not he discussed the Strategic Vision project with Yvette Wang: See, Eastern Profit v. Strategic Vision LLC. Case 18-cv-02185, S.D.N.Y. 2018. Doc 273-3, p. 6

Q. Have you had conversations with Yvette Wang regarding the research efforts for which Strategic Vision was hired?
MR. HARMON: Object to the form of the question.
Guo. I refuse to answer this question.
In a 2017 interview by Mirror TV, Wang told the interviewer she is a member of Chinese Communist Party
According to Lianchao Han, Guo put Wang in charge of the project in the late stage of the negotiation and early stage of the execution. (Eastern Profit v. Strategic Vision LLC Case 18-02185, Doc 273-4, p 47, NYSD)
Q. So do you recall, roughly, the date when — well, let me back up for a second. I understand your testimony to be that while you were involved with Mr. Guo and Strategic Vision, some deal was agreed to in principle. Correct? Han: Yes.
MR. GRENDI: Objection.
BY MR. GREIM:
Q. Then at that point, Yvette Wang came in to take over negotiating the details of the contract itself?
MR. GAVENMAN: Objection.
MR. GRENDI: Objection.
Han: Yes.
According to Strategic Vision, Wang was aggressive and assertive when in charge of the project. (Eastern Profit v. Strategic Vision LLC Case 18-02185, Doc 273-47, p 15, NYSD)

Q: So, other than the stack of hard copy papers that you described that you saw but didn't receive from ASOG, did Strategic Vision compile any other tracking research consistent with paragraph B on page 2 of the agreement?
Waller: No, that was our first crack at the tracking research.
Q And then — just bear with me.
Waller: I might also add that it was a problem on the legality side because while Lianchao Han was scrupulous about obeying U.S. law, Yvette Wang was not, and she even once said I don't care if it's legal, just get it.
According to Sasha Gong, Wang is a graduate of Lou Yang Information Technology Institute of People's Liberation Army, CCP's military:
Q: Have you — did you have any opportunity to discuss her background with — with her?
Gong: No. However, as a reporter, I went to check the Chinese site, and I believe she's a graduate from the Liu Yung (phonetic) PLA Information Technology. Now it's called the People's Republican Army's Information Technology — Information some — Engineering University. I only have two sources as a reporter, and I can't testify to truth of that. And that's the only, you know, thing. But I have two sources I can state. One source I would not state.
CONCLUSION
Guo Wengui, shown to be connected to the Chinese Ministry of State Security, (China's CIA equivalent), in Hark Herald's article "Big Lies and Big Money…" is clearly connected to William Je, who is a senior member of the Chinese United Front Work Department, China's equivalent of the Russian FSB. (Russia's information warfare agency.)
The most concerning problem about this connection is that everyone in China tells on everyone else. Different spy agencies spy on each other and report on each other. They are rivals for power in the Communist Party hierarchy.
Two Chinese Intelligence Services do not cooperate with each other unless someone in the Chinese government, who has the power to order them to cooperate on a project, does so.
This means whatever Guo Wengui and William Je are cooperating on has been authorized at the highest levels of the Chinese Communist Party.
That's a serious national security threat.
MainStream media has not connected the dots.