by Hark Herald Staff
The MAGA gang —Steve Bannon, Peter Navarro, Jason Miller, Elliot Broidy, Mike Flynn and others— are receiving not only financial support, but marching orders for a carefully orchestrated propaganda campaign from foreign-born operatives. Their connections to Guo Wengui was evidenced in the previous article.

William Je
The direct and circumstantial evidence presented in the previous article in this series indicates Guo Wengui is connected to the Chinese Ministry of State Security (MSS). To comprehend Guo Wengui's potential motives, we took a deep dive into the Chinese Communist Party's (CCP) political influence organization, the United Front. The reason? Guo's self-proclaimed "money man," William Je, appears to be connected to the United Front.
Our OSINT investigation suggests no two intelligence agencies in China work together without someone high enough in seniority in the CCP to have control over both intelligence agencies ordering them to work together. This is revelatory to the importance China is attaching to supporting the MAGA gang.
A Hark Herald investigation reveals William Je is connected to the Chinese Intelligence Agency the United Front and court documents show money transfers to Guo Wengui from China, who then distributes that money to members of the MAGA gang. The entire operation appears to be aimed at creating social unrest through psychological warfare.
United Front organizations present themselves as political operations by a friendly power, or sometimes controlled opposition organizations appearing as dissident operations. United Front insinuates itself into a society by creating chapters of multiple legally registered associations and institutes that infiltrate local communities in the target nation. It should be noted that other Chinese Intelligence Services also do this in conjunction with the United Front, like the MSS.
These organizations include:
The China Council for the Promotion of Peaceful Reunification (CPPRC)
The China Association for International Friendly Contact.(CAIFC) (An organization of the Chinese military and MSS)
Chinese Student and Scholar Association, which has at least 142 chapters around the US and the world. (CSSA) Organizations led by its Hong Kong, Macau and Taiwan Bureau, such as Hong Kong Youth Association and China Youth Association.
Confucius Institutes (link)
Chinese language schools and dancing schools, like New York Chinese School, New York Beijing Chinese School, etc.
Generic associations based on which region of China the Chinese Americans came from, such as US Sichuan Chongqing General Association, Inc., Guangdong Chinese American Association and Taishan Chinese American Association, etc.
These organizations and institutes are all legally registered, and our investigation found that some are in fact another arm of the Chinese Communist Party propaganda machine. They appear to be formed with the covert purpose of extending China's influence into other societies under the guise of being legitimate social organizations intended to assist Chinese people living abroad. We have enough evidence to show that Falun Gong has a complicated relationship with United Front affiliates.
An initial survey shows there are 433 legally registered Chinese organizations in cities such as New York, Los Angeles, San Diego, and the San Francisco Bay Area, many of which are under the control of United Front and MSS agents and operatives. It is important to note some of these are legitimate Chinese American organizations.
On the surface, these organizations appear harmless to national security. This is misleading, however. Many appear to be collecting information about individuals and technology that is likely shared with Chinese Intelligence. During the cold war, especially after President Richard Nixon's visit, China was viewed by many as quasi-allied against the Soviet Union. But as Nixon said in the Watergate tapes, the way the United Front operates is to "tell them one thing and do something else."
Two weeks after the publication of our third article in this series, we saw evidence of national security attention turning towards China. Enough concern has been raised about Chinese activities in America, that the CIA recently launched a new Chinese-focused unit intended to "address the global challenge posed by the People's Republic of China that cuts across all of the Agency's mission areas (to) further strengthen our collective work on the most important geopolitical threat we face in the 21st century, an increasingly adversarial Chinese government."
In addition to the mission center, the CIA also said it is creating a new position of chief technology officer and a Transnational and Technology Mission Center to focus on emerging technologies, among other national security threats.
Subverting Target Nations
The average person thinks of James Bond type espionage activities when presented with an accusation of spy activities by a foreign power. But this is far from the truth in the nuclear age, where armed confrontation runs the risk of a war no one wins.
According to Yuri Bezmenov, in a Soviet style intelligence agency, from which the Chinese intelligence agencies were designed, 85% of the resources are dedicated to Psychological Warfare, Active Measures and Ideological subversion.
For a better understanding watch the documentary "Active Measures."
Latent Network
An intelligence term used when discussing geopolitical threats is "latent network," a phrase that denotes hidden networks. For additional reading on latent networks, see this article.
Our investigation reveals the United Front as an alleged tool of the CCP, and we believe it may pose a direct threat to American democracy.
As Alexander Bowe, a U.S.-China policy analyst for the U.S.-China Economic and Security Review Commission, stated in a recent report, the United Front is "the most subversive and anti-democratic of the CCP's influence operations." Id.
On Aug 4, 2021, Matthew F. Pottinger, who served in the Trump administration and submitted his resignation on January 6, 2021, addressed Congress. He described how the United Front plays a central role in the CCP political warfare:
One of the most crucial elements of Beijing's political warfare is so-called "United Front" work. United Front work is an immense range of activities with no analogue in democracies. China's leaders call it a "magic weapon." And the CCP's 95 million members are all required to participate in the system, which has many branches. The United Front Work Department alone has three times as many cadres as the U.S. State Department has Foreign Service Officers. Instead of practicing diplomacy, however, the United Front gathers intelligence about and works to influence private citizens and government officials overseas, with a focus on foreign elites and the organizations they run. (See this essay and and this previous article).
The chairman of the CPPCC (Chinese People Political Consultative Conference), who is the #4 leader in the CCP hierarchy, is in charge of the United Front operations. The CPPCC chairman is a Politburo Standing Committee Member. The Politburo Standing Committee is made up of seven people who represent the highest authority of CCP. They run the CCP on a daily basis. See, ""China's Digital Authoritarianism: Surveillance, Influence, and Political Control", May 16, 2019 hearing before the House Permanent Select Committee on Intelligence prepared statement by Peter Mattis.
William Je is a CPPCC Member
The following testimony was adduced under oath:
Q. Did Mr. Guo ever introduce you to a man named William Je?
Gong: Yes.
Q. When was that?
Gong: November 20, 2018.
Q. What was the occasion?
Gong: In that morning, Mr. Guo and Mr. Bannon have the joint press conference. In that press conference, they announced that they were [starting] up a Rule of Law Foundation. So they announce that at lunchtime. I got a phone call from that one. He said Mr. Guo invites you and Lianchao Han and Bill Gertz, the three of us, to go to his apartment for lunch.
…
Q. Okay. So who else — I take it you then attended the lunch at Mr. Guo's apartment?
Gong: Yes.
Q. Who else was there?
Gong: Mr. Bannon and Mr. William Je.

According to the court document, when Guo introduced William Je to Sasha Gong, Guo said, "He's the money man." (See, Eastern Profit v. Strategic Vision, Case No. 1:18-cv-02185-LJL, (SDNY 2018), Doc. 273, p. 30.)
On his Linkedin profile, William Je listed CPPCC Membership in Honor & Awards. The CPPCC is fully controlled by the United Front and serves as a cover organization for the United Front. See, also, CPPCC
As stated in the previous Hark Herald investigation, we believe it is worth reiterating that two separate Chinese intelligence agencies do not work together without someone high in the CCP ordering that cooperation. Gou Wengui is believed to be connected with the Ministry of State Security, yet his money is being supplied by William Je who admits being a member of the United Front. This evidences the importance of the operations involving Steve Bannon and the other MAGA propagandists named in the previous article.
Members of the CPPCC are carefully vetted for loyalty by the United Front. To maintain a CPPCC membership, the member has to demonstrate continuing allegiance to the CCP. Failing to do so will result in expulsion. (See, CPPCC bylaw, Article 30. Google Translation).
The United Front is also known as the United Front Work Department, (UFWD), but the names the organization operates under appear to be fluid and deliberately ambiguous, likely obscured for purposes of obfuscation and misdirection. Further, Hark Herald sources say the names of different departments seldom have anything to do with the real purpose of that department.
The United Front "has a high place within the CCP hierarchy as a working [extension] of the CCP Central Committee." (See, The United Front Work Department: "Magic Weapon" at Home and Abroad, Publication: China Brief Volume: 17 Issue: 9, by Marcel Angliviel de la Beaumelle.)
Since the late seventies and early eighties, when Chinese people began studying overseas in increasing numbers, the Party-state has closely monitored their behaviour and speech, especially those who have gone abroad with government support. Embassies and consulates maintain close connection with students via Chinese student associations and sponsored activities.
A number of these students end up emigrating. The post-1978 generation of mainland immigrants, who went to countries like Australia, the US, and the UK, are distinct from other huaqiao (overseas Chinese), who may have left before 1949 or were born elsewhere. Older generations of Chinese immigrants tend to form tight social and business communities through associations based on language, provincial (or hometown) origins or politics. Historically, these associations are extremely valuable to the UFWD, whether in assessing the attitudes of huaqiao to the Party's policies and actions, courting their support or mobilizing them against the Party's critics. See, The Expansion of The United Front under Xi Jinping.
In his report Huawei, the CSSA and beyond: "Latent networks" and Party influence within Chinese institutions", Martin Thorley described the United Front as being able to call upon a "latent network" of civic, educational, non-governmental groups and affiliated individuals, both inside China and abroad, especially in times of crisis. Estimates are there are at least 40,000 personnel in the United Front who are tasked by CCP to cultivate latent networks. These are being created both domestically and internationally. Alex Joske from the Australian Strategic Policy Institute found that domestic and international United Front work often overlaps with each other. It's structure is intricate:
See, Australian Strategic Policy Institute, "The Party Speaks For You," by Alex Joske.
This structure is mirrored at the State and municipal level, although with much looser authority or control until such time as an issue important to the Party arises. Think again of a "latent network," lying in wait until it is called to serve. When operating abroad, United Front agents will focus on:
Recruiting elites in the target country;
Cultivating pro-China lobby groups;
Driving division in the local society, and
Gathering human intelligence.
According to "American Kompromat," by author Craig Unger, the Kremlin did the same to the Russian emigres who came to America after President Gerald Ford signed the Jackson-Vanik bill, which created an immigration pathway for Soviets in exchange for trade relations. Unger wrote that Soviet immigrants had to agree to potentially spy for the Kremlin in exchange for coming to the U.S.
According to Joske's report, the United Front followed a similar process. The official Chongqing CPPCC record shows William Je served as a UF member for two terms from 2008 to 2018. As evidenced in the third article in this series, Je finances, through Guo Wengui, high-profile MAGA operators, who are spreading propaganda that benefits China in the United States. Interestingly, members of the MAGA often use the term "Communists" as a boogeyman when spreading their propaganda.
Guo and Je Have Been Working Together Since at Least 2015
Based on Chinese media reports, and court records, Je has been working closely with Guo since 2015. This was when Guo had Je register and form ACA Capital in Hong Kong that was used to wire money to Guo from William Je. See chart infra. See also, Eastern Profit v. Strategic Vision, Case, supra, at Doc 273, pp. 30-32. ACA Capital was originally formed during the process of defrauding the United Arab Emirates ruling family, Al Nahyan of $3 billion dollars. See, Eastern Profit Corporation Limited v. Strategic Vision, supra, Document 261, p. 163-164, testimony of Waller.
According to a July 29, 2017 report by Caixin Global: How Fugitive Billionaire Guo Wengui Lured Abu Dhabi Investors Into the Mire.
After the 2008 global financial crisis, the Abu Dhabi royal family sought to allocate more of their massive investment portfolio to the Asia and China markets to hedge risks. In early 2012, during a visit to the United Arab Emirates by then-Chinese Premier Wen Jiabao, the two sides first proposed the idea of setting up an intergovernmental joint investment fund. But it wasn't until late 2015 that the official UAE-China Joint Investment Fund was created.
Guo sensed opportunity and moved early and quickly. Beginning in 2013 he started approaching senior members of Abu Dhabi, including Khaldoon Al Mubarak, chief executive officer of Mubadala Investment Co., an Abu Dhabi strategic investment fund, sources close to Guo said. In the summer of that year, Guo received Abu Dhabi guests in Beijing. He also took several trips to Abu Dhabi during the year, civil aviation flight records show.
On one of the trips, he traveled with [Tony] Blair, who introduced Guo to key Abu Dhabi figures, including Crown Prince Sheikh Mohammed bin Zayed Al Nahyan, sources close to the matter told Caixin. Guo was expecting to use the Abu Dhabi money to invest into a domestic securities firm and boost the company's value, a former employee of Guo told Caixin…
In December 2014, Guo and Abu Dhabi representatives signed an agreement in Macau to set up the ACA Investment Fund in Hong Kong with $12 billion, in which each side would invest $6 billion. The fund is jointly held by Alfa Global Ventures and Alfonso Global Ltd., two British Virgin Islands-registered companies controlled by Guo, and the Cayman Islands-registered vehicle Roscalitar2 owned by the Abu Dhabi royal family.
The two sides set up ACA Investment Management Ltd. to manage the fund, with Guo and Roscalitar2 respectively controlling 70% and 20% of its shares. The remaining 10% stake went to veteran investment banker Je Kin Ming, also known as William Je aka Yu Jianming or Je Kin Ming, who worked for Hong Kong-based financial company Macquarie Capital Ltd. at the time. Je helped Guo, one of his key clients, rent an office in Hong Kong for the fund, and negotiate the fund's investment plans with several Chinese businessmen, sources with knowledge of the matter told Caixin.
Under the agreement, Guo would borrow $3 billion from the Abu Dhabi royal family to inject into the fund for initial investment. Guo pledged his BVI-registered company Shiny Ace — which controlled Guo's assets, including a hotel in Henan Province, a private residence in Beijing and a villa in Hong Kong — to Abu Dhabi partners as collateral for the loan. Guo agreed to invest another $6 billion into the fund one year later.
Thereafter, William Je set up ACA Capital in 2015, in Hong Kong.
Strategic Vision later interviewed the Al Nahyan family during their investigation of Guo's references. According to the court document, Al Nahyan claimed the money was stolen. See, Eastern Profit Corporation Limited v. Strategic Vision US, Case No. 1:18-cv-02185-LJL, (SDNY 2018), Document 261, p. 163-164, testimony of Waller:
Waller: Based on the conversation that I had with members of the family with whom he allegedly defrauded them over $3 billion.
Q And which family is that?
Waller The Al Nahyan family.
…
Q And what did they say to you about that?
Waller: When I mentioned his name, they said that, yes, they were fully aware of him and that it was not a pleasant experience.
Q Why were you talking to the Al Nahyan family about Mr Guo?
Waller: Because Mr Guo, I believe, had been telling me with this document that he knew all of these people, and I was checking on whether he did know any of these people. And so it came up that he defrauded the UAE and the family of over $3 billion, as you well know.

The Al Nahyan family is the ruling family of the UAE. Khalifa bin Zayed Al Nahyan is the President of the United Arab Emirates. In the course of defrauding them of $3 billion, ACA Capital was created that was later used to indirectly fund Guo Wengui's activities in the United States. See chart infra.
William Je and Guo Wengui Ties
ACA Capital – The Vehicle Through Which Je Made Payments to Guo
How much has William Je transferred to Guo Wengui? According to Eastern Profit v. Strategic Vision, supra, at Doc 273, p. 30-32, William Je wired Guo or paid for Guo the following, according to the court record:
Cash transfers by William Je
2017-2018
Annual consulting fee of $7 million to Golden Spring HK, a Guo Wengui holding
2017
Paying Williams & Connolly $1 million for Guo's political asylum visa (green card)
2017
Paying Strategic Vision $1 million for the investigation (down payment)
2018
Paying Bill Gertz $100,000
Note: Bill Gertz was fired from The Washington Beacon for accepting $100,000 from Guo Wengui while writing about Guo Wengui. The money was sent from ACA Capital in Hong Kong by William Je to Bill Gertz.
It is unclear how Guo Wengui fronted the $100 million he gave to Steve Bannon's Rule of Law Society due to the opaque nature of the business transactions.
It is curious how payments are taking place when Guo's assets are said to be frozen by CCP, and Guo himself was being wanted as an "anti-CCP dissident". See, Eastern Profit Corporation Limited v. Strategic Vision US, supra, Doc. 127, pp. 39-40.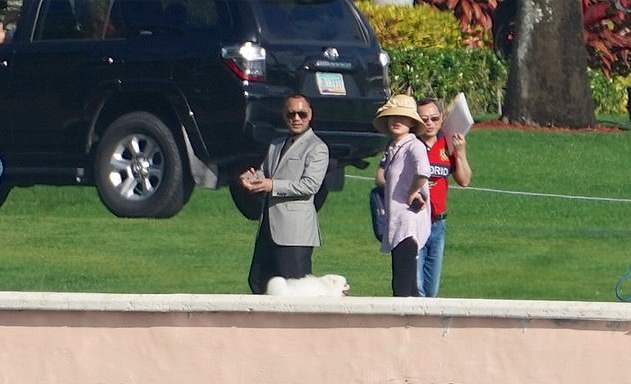 Guo and William Je, together at Mar-a-Lago
As we previously reported, Guo himself invoked his 5th Amendment protections forty-seven times, under oath, at a court hearing in Eastern Profit v. Stategic Vision, supra, on April 22, 2021 when asked about his relationship with Je and MSS:
Q: Were you receiving funds from China Golden Spring from Hong Kong and Mainland China?
Guo: Plead the Fifth.
…
Q: Did you order $1 million wired to Strategic Vision on December 29, 2017?
Guo: Plead the Fifth.
Q: Are you aware that Eastern Profit says you did?
Guo: Plead the Fifth.
Q: Who is William Je?
Guo: Plead the Fifth.
Q: Does William Je send money when you ask him?
Guo: Plead the Fifth.
Q: Was William Je the person for whom you were willing to make introductions in Hong Kong and Communist China?
Guo: Plead the Fifth.
Q: (Again) Did you order ACA to pay $1 million to Strategic vision?
Guo: Plead the Fifth.
Q: Have you introduced William Je to others as your 'money man'?
Guo: Plead the Fifth.
Q: Are you concerned that William Je is with the CCP's 'Chinese People's Political Consultative Conference,' or CPPCC?
Guo: Plead the Fifth.
Q: Did you speak with William Je about repaying the $1 million loan at stake in this case?
Guo: Plead the Fifth.
Q: Have you claimed that William Je told you that he wanted the $1 million loan repaid?
Guo: Plead the Fifth.
Q: Did you pay anybody to protest outside this court house?
Guo: Plead the Fifth.
Q: Did you pay anybody to sit here in court?
Guo: Plead the Fifth.
Q: Did you speak with William Je about repaying the $1 million loan at stake in this case?
Guo: Plead the Fifth.
Q: Have you claimed that William Je told you that he wanted the $1 million loan repaid?
Guo: Plead the Fifth.
…
Q: What did you say to MSS Deputy Minister Liu Yanping when he met with you at your home at the Sherry-Netherland in 2017?
Guo: Pleads the Fifth.

The judge says Guo is making "impermissible" abuse of the Fifth Amendment pleadings.
Q: When Chinese Deputy Minister of Security Liu Yanping met with you at your home on Fifth Avenue in 2017, you were bargaining with the MSS and CCP to return your assets, correct?
Guo: Pleads the Fifth.
Q: Are you still working for the Chinese Ministry of State Security (MSS)?
Guo: Pleads the Fifth.

Examples:
The above is a partial transcript of the proceedings on April 22, 2021 in the United States District Court for the Southern District of New York, Eastern Profit v. Strategic Vision, supra. (Also cited in the previous article of this series)
Further evidence of Guo Wengui's relationship with William Je was added into evidence in Strategic Vision's case:
Lianchao testified that Je manages Guo's money. (Lianchao. See, Eastern Profit v. Strategic Vision, supra, Doc. 273, p. 31, citing to Ex. BB, 26:4-6.) When Guo needed a letter of credit to purchase D.C. real estate in the fall of 2017, it was provided by Je. Id., p. 31, Ex. BB 26:4-27:11. Lianchao testified that Guo "hired" Je, who had been at the Australian firm Macquarie Capital, to work at ACA. … Another Guo confidant who acted for him regarding the Research Agreement with Strategic also characterized ACA as owned by Guo. In a September 26, 2017 Free Beacon article, Gertz referred to ACA as "Guo's company."Eastern Profit v. Strategic Vision, supra, Doc. 273, p. 31, citing to Ex. AAA "FBI Eyes China in Posting Hacked Documents on Chinese Dissident").
Guo has recently admitted that ACA has paid him, although he claims it is through an alleged $7 million-per-year "consulting agreement" with China Golden Spring Group (Hong Kong), Ltd. ("China Golden Spring"), which Guo admits is "owned and operated by my family. (See, Eastern Profit v. Strategic Vision, supra, Doc. 273, p. 31, Ex. NNNN, July 23, 2019, Affidavit of Guo Wengui, Guo Wengui v. Hongkuan Li, Case No. PWG 18-259 (U.S. Dist. Ct. D. Md.) Dkt No. 20-4 (Dkt. No. 197-1.)
Je and ACA were also involved in Strategic Vision's matter. Guo's shell entity, Eastern Profit, claimed that it intended to share the results of Strategic's confidential research with ACA and William Je… (See, Wang Affidavit, Eastern Profit v. Strategic Vision, supra, Doc. 273, p.34 citing to Tr. Ex. II, 45:22-46:25, 47:6-14.)
William Je also advised Guo, along with a tight circle of other confidants to Guo consisting of Lianchao and Victor Cerda (Guo's immigration lawyer), on whether to sue Strategic for breach of contract. (Lianchao. See, Eastern Profit v. Strategic Vision, supra, Doc. 273, p. 34, Ex. BB, 23:17-25:9.) …Je warned Guo not to sue Strategic Vision for the return of the $1 million. (Lianchao. See, Eastern Profit v. Strategic Vision, supra, Doc. 273, p. 34, Ex. BB, 23:17-25:9.)
The people Guo asked Strategic Vision to investigate turned out to be "Records Protected" persons. If those investigations had been completed, the information would have been transmitted to Chinese Intelligence. This could have compromised ongoing US intelligence operations.
The question arises that if Guo Wengui is, as he claims, a true dissident wanted on criminal charges in China, why would China allow William Je to wire Guo money from Hong Kong without arresting Je as an accessory after the fact? More pointedly, if Guo is not associated with the MSS, why would Je have anything to do with Guo and jeopardize Je's standing with the CPPCC?
What do Je's assignments tell us?
William Je was born and raised in Hong Kong, but was appointed a CPPCC member in Chongqing, a city 689 miles north of his hometown, a municipality extremely important in China's power structure.
Je received this prestigious assignment while serving as the executive chairman of the Hong Kong Youth Association, an important United Front organization in Hong Kong. (Note: the only written source for this information is in the Chinese language of Mandarin. A translation will be provided to anyone who desires to see it by Hark Herald Press. Twitter: @HarkHeraldPress).
CPPCC members are placed by the United Front after meticulous vetting and in China, all politics are local. To hold such distinguished positions, in two separate cities that far apart, according to our sources demonstrates his importance to the United Front.
Conclusion
Our exhaustive OSINT investigation reveals China's narrative of peaceful intentions appears to be disingenuous. Talk of peaceful intentions toward Western nations are poisoned by the proliferation of propaganda operations. In addition, while American intelligence agencies have documented Russia's ongoing hybrid warfare against the U.S., the CIA's new China-focused unit offers evidence that China's activities represent ongoing threats to national security. Lastly, we ask how exactly are high-profile members of the MAGA gang making America Great Again when there is documented evidence they are receiving financial support from people with strong ties to Chinese Intelligence operations in the United States?
As always, we follow the money.
This is a continuing series of OSINT articles exposing foreign influence operations in the United States.
More to come.
Hark Herald Staff